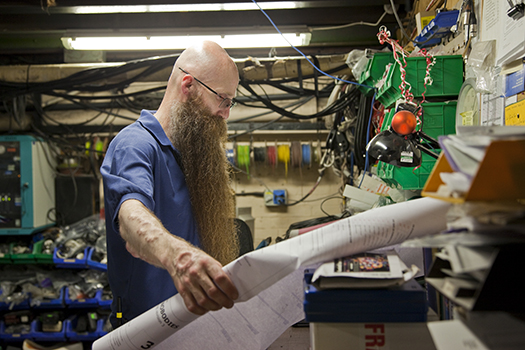 Union representatives, who lead BECTU's support for members at branch level, are amongst our greatest assets. Our reps are central to the union's ability to recruit and represent members effectively and they play a leading role in developing union policy across the union. Elected by branch members, our reps are vital to BECTU's understanding of the issues facing the workforce.
Whether our members work as staff or freelancers, they're helped day to day by union reps with advice and representation. In turn, our union reps, receive substantial support from the union's staff based at our offices in London, Glasgow, Salford Quays, Birmingham and Cardiff.
Fancy becoming a rep?
We encourage BECTU members to take part in BECTU's activities. But why not take this further and become a rep? The training we provide is not only good for your union role, but good for life, increasing your understanding of employment issues, enhancing your confidence and strengthening your negotiating skills. Become a union rep and you'll be on the road to developing new life-long skills. Find out about reps training here.
If you'd like to become a rep, discuss this with members of your branch committee or contact your national official. You can also contact us to request more info.
What's involved?
Several separate roles exist covering branch administration ((branch secretary), representation (steward), recruitment, equality, learning, health and safety and web-editing.
Branches decide on what they need bearing in mind the size of the branch's membership, workplace/campaign priorities and the amount of business which is generated. What is certain is that branch officials welcome new members and active members. If you'd like to become active, you could start by offering to join your committee?
Online kit for reps
We've opened up this area on our site to help reps to locate useful resources online (both here and elsewhere). Download our Legal Factcard 2017/18.
Branch web pages
Every BECTU branch has the option to use a dedicated branch area (visible to members only subject to log-in). We've run courses on how to use/edit the pages (in effect they are mini-websites) and will do so again; for now though you may find the documents attached to this page useful. Branch secretaries also have the option to use the member-only area to help manage branch business; a document attached to this page tells you how.
Social media: advice for BECTU account holders
Several branch reps run social media accounts specifically to assist with branch business and BECTU encourages this activity. However recent developments have brought these communications within the scope of UK libel law. As a result the union has drawn up a Code of Practice to guide reps on factors to take into account when working with digital media. We're encouraging all reps to read the code.
BECTU's official pages on facebook are at www.facebook.com/bectuofficial and www.facebook.com/bectunorth
The union's main twitter account is @bectu
BECTU is also on YouTube (www.youtube.com/user/bectutradeunion) where reps will find a series of short films highlighting the benefits of BECTU membership. We've also posted footage discussing help for new entrants and sessions from our annual Freelancers' Fair.
If you use social media, follow us, like us, share our pages to help BECTU to reach more of the people we want to help and recruit.
Benefits & services and promo materials - order yours
Current information on joining online and union application forms are available here: www.bectu.org.uk/join
The latest Benefits & Services and Working for Freelancers booklets (the latter focuses on low-cost public liability insurance) can be downloaded from this page www.bectu.org.uk/benefits-services
We also have a new Freelance Survival Guide, first published in September 2017.
(In all cases, hard copies are available on request).
Reps can also contact us to order BECTU posters, flyers, application forms, booklets, badges, bags, pens and key rings to help with local recruitment events. (Please quote your name, branch and membership no. when ordering).
Where union noticeboards are available it's important that we use them to help to highlight BECTU's profile in the workplace.
BECTU Plus
Reps will also be interested in keeping up to date with the additional benefits available to members through BECTU Plus. BECTU Plus is the union's affinity benefits package and offers savings to members on a host of items including home and car insurance, energy supply, financial advice, selected Apple products and more. Members should login to view full details of the package.
BECTU Sector Conference
Now that BECTU is part of Prospect sector conferences will be held every other year. The next sector conference will be in 2019. BECTU representatives will take part in their first Prospect conference on 3-6 June 2018.
Query about the content on this page? Contact Balihar Khalsa, Senior Communications Officer.
Last page update 21 May 2018.