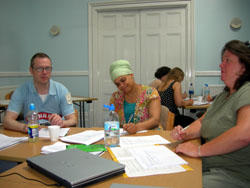 Course description
This course is designed to introduce you to the rights, duties and responsibilities of Union Safety Representatives so that you can act effectively on behalf of BECTU members.
Who should attend this course?
This course is designed specifically for union safety reps in a single workplace, who have been nominated by their branch or shop.
Your right to train
As a nominated union safety representative you have legal rights to undergo training for your role - these are contained in the Safety Reps & Safety Committee Regulations (SRSC Regs) 1977.
Learning Outcomes
'Learning outcomes' are a way to describe what a course or a workshop will contain. Instead of listing what is included we spell out what you will be expected to know by the end of the course. By the end of this course you will:
Have greater knowledge of UK health and safety legislation

Understand the role of the Safety Rep

Be aware of your legal rights and responsibilities

Learn about the role of safety committees

Be confident in carrying out safety inspections

Develop your communication and problem solving skills
In broad terms, part 1 deals with the rights and responsibilities of safety reps and part 2 deals with substantive legislation (eg risk assessment, workplace regulations etc). Although designed for safety reps where BECTU has recognition for collective bargaining purposes, it is still useful for reps where the union is not recognised and also for freelance reps.
What next?
After completing this course you should apply to attend to attend the BECTU Creative Industries Safety Passport. Please email. Martin Roberts to book your free reps place on completetion of this course.
To see how we deal with your data go to our privacy notice
Location
This course is being held on the:
18-20 March at New Prospect House, Waterloo, London
17-19 June at New Prospect House, Waterloo, London
23-25 October at New Prospect House, Waterloo, London
17-19 December at BECTU Sector Office Clapham, London
Duration
It is a 3-day course which runs from 13:00 on day one to 13:00 on day three.
Please note that lunch is provided


Cost - FREE