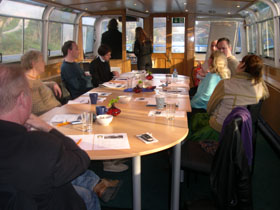 Course description
This course is designed to introduce you to the structure and workings of the legal system as it affects people at work. It is an introduction only and is not intended to develop expertise in employment law. You will examine legislation, investigate case-studies and discuss issues relevant to BECTU members.
Who should attend this course?
This course is designed for experienced union representatives and those with considerable local responsibulity. It is strongly recommended that you attend a previous course before attending this one (or have considerable experience) as it requires a sound body of pre-exisiting knowledge of how the union organises and allocates responsibilities.
You should attend the Branch Reps part 1 and Branch Reps part 2 before this course as they contain information and resources that you will need to know before attending this course. Please check with course tutor Martin Roberts if you are unsure which course to attend or in which order it is best to take the courses.
If you are an elected or nominated BECTU representative then you are probably entitled to time off for training by law. In addition all reps courses are free to attend and BECTU will pay reasonable expenses to enable you to attend.
Learning Outcomes
'Learning outcomes' are a way to describe what a course or a workshop will contain. Instead of listing what is included we spell out what you will be expected to know by the end of the course. By the end of this course you will have learned more about:
Unions and the law

How the law affects workers and employment

What makes and what breaks a contract

The different types of dismissal

Diversity & discrimination

How to analyse situations and resolve problems
What next
To see how we deal with your data go to our privacy notice
Location
This course is being held on the:
5-6 March at New Prospect House, Waterloo, London
5-6 June at New Prospect House, Waterloo, London
1-2 October at BECTU Sector office, Clapham, London
21-22 October at New Prospect House, Waterloo, London
Duration
It is a 2-day course which usually runs from 11:00 on day 1 to 16:00 on day 2.
Please note that lunch is provided


Cost - FREE