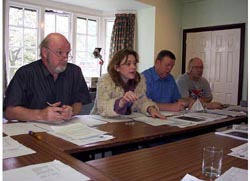 Course description
This course builds on the skills learned in the reps part 1 & 2 courses. During the day you will focus on the psychology and tactics of negotiating as applied to a typical negotiating scenario
This course is designed to give you the skills and confidence to successfully engage in negotiations with employers in a collective bargaining evironment.
Who should attend this course?
It is also essential to have attended either the BECTU Branch Reps courses 1-2, TUC stage 1 reps programme or relevant GFTU courses.
Please check with Training Official Martin Roberts if you are unsure which course to attend or in which order it is best to take the courses.
If you are an elected or nominated BECTU representative then you are probably entitled to time off for training by law. In addition all reps courses are free to attend and BECTU will pay reasonable expenses to enable you to attend.
Learning Outcomes
'Learning outcomes' are a way to describe what a course or a workshop will contain. Instead of listing what is included we spell out what you will be expected to know by the end of the course. By the end of this course you will have learned more about:
The theory and practice of negotiation

Proven negotiation techniques

Improve communication and interpersonal skills

Understand the formulation of pay claims

Understand psychological approaches to negotiation
Key Course Objectives
Completion of this course will better prepare you to negotiate effectively with employers and others. We would strongly recommend that you take every opportunity to observe actual negotiatons to deepen your understanding.
What next?
Not the course you are looking for?
To see how we deal with your data go to our privacy notice
Duration
This is a 1-day course which usually runs from 10:00 until 17:00.
Please note that lunch is provided


Cost - FREE