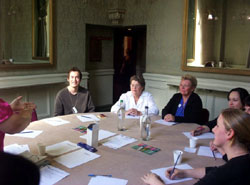 Course description
This course is designed to welcome you as a BECTU representative and introduce you to the role of a union rep and the skills needed to carry it out. No previous knowledge is needed and you will find the course relaxed and informal but very effective in supporting you in your new role.
Who should attend this course?
Any BECTU member who is a union representative of any kind will find this course useful - including branch reps, safety reps, learning reps and equality reps. it is also useful for local branch officers.
The course is for staff members or any reps who have a structured work environment and where the union seeks to organise. It is less relevant for freelance activists and reps who work in a variety of workplaces - please note that a course for such colleagues can be found here
Please check with course tutor Martin Roberts if you are unsure which course to attend or in which order it is best to take the courses.
If you are an elected or nominated BECTU representative then you are probably entitled to time off for training by law. In addition all reps courses are free to attend and BECTU will pay reasonable expenses to enable you to attend.
Learning Outcomes
'Learning outcomes' are a way to describe what a course or a workshop will contain. Instead of listing what is included we spell out what you will be expected to know by the end of the course. By the end of this course you will have learned more about:
Understand more about how BECTU organises and what the union does
Have a better idea of what trade unions stand for, their ideals, values and practices
Be more clear about the rights and responsibilities of reps and activists
Understand the legal rights and responsibilities of union reps
Be better able to involve members and improve union organisation
Completion of this critical course means that you will understand how BECTU works as a union and the sort of duties and activities that union reps can undertake.
What next
At any time you have the choice to carry on with our own BECTU programme or try a TUC or GFTU course. If you want to pursue the BECTU programme then the next course will be Union Reps Part 2: represent your Members, where you will learn about the skills and knowledge to help you represent your members collectively and individually.
If you are a safety rep then the next course for you will be Safety Reps Part 1 and if you are a Learning Rep there will be courses for you available with the TUC, ULR Stage 1.
To see how we deal with your data go to our privacy notice
Location
This course is being held at BECTU head office in London
Duration
This is a 1-day course, (10.00 - 5.00 with 1 hour for lunch)

Lunch is provided



Cost - FREE